Cobia Fishing Charters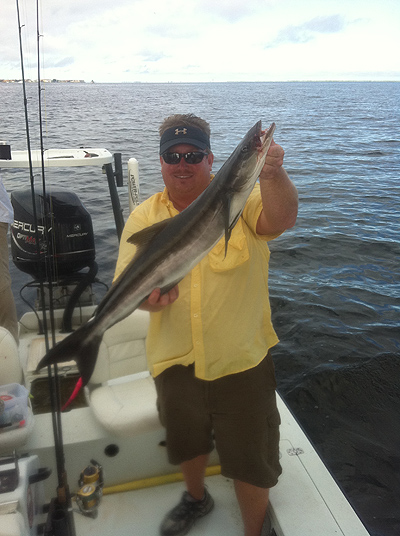 Cobia: Is a spring species that migrates through Florida. Most Catches are over twenty pounds and it is not uncommon to catch fish over fifty pounds.
Cobia Limits
33 inches to the fork of the tail
Bag limits are one per person or two per boat which ever is less
Long, slim fish with a broad depressed head
The lower jaw protrudes past the upper jaw
Dark lateral stripe extends through the eye to the tail
First dorsal fin has 7 to 9 free spines
When young, has conspicuous alternating black and white horizontal stripes
Cobia are found in nearshore and inshore waters with inlets and bays. Cobia are frequently found around buoys, pilings and wrecks in these areas.
They spawn in spring and early summer.
Florida State Record Cobia:
130 lb 1 oz, caught near Destin
Live crabs and small fish are good baits for cobia. Keep bait near the surface or, if cobia are deeper, add just enough weight to get the bait down and still retain its movement. Medium to heavy tackle is required to land these fish which average 30 pounds. Large specimens in the 50-80 pound class are frequently caught and cherished by the lucky angler who outmatches these powerful fish. Cobia are excellent table fare.


Captain Dave Stephens * (941) 916-5769 * Back Bay Xtremes * PO Box 510746, Punta Gorda FL 33951
Flats Fishing Charters for Charlotte Harbour, Punta Gorda, Florida